Best Apartment EVER
Thanks to everyone's support of Lesbian Pirates. I'll announce when production starts. :-)
I just wanted to drop a quick note to state, starting this August, I will have the BEST APARTMENT EVER. I'll be living with three of my chillest, best friends. And everyone is welcome to come hang at our place, as there will be constant free food, bellydancing, good music, great people, and a leopard gecko named Hedwig Hedberg.
Kick ass.
Let me introduce you to the peeps of 6208 next year.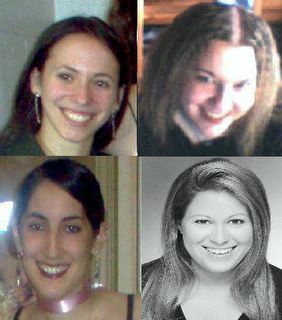 Clockwise, starting from upper-left corner: Toby, Me, Ilana, and Margo.
Ilana's photo looks way better than ours because it's her scanned headshot, back from the acting days.
We like to joke that we'll have the artsiest apartment ever. Toby is a dancer. Margo is a skilled art major. Ilana practically runs a theatre group. I study classical voice and play a few instruments. Dance. Art. Theatre. Music.
But we overlap, which makes us supercool.
Ilana and I both act.
Margo, Toby, and I study bellydancing.
Margo and I both do art.
Margo and Toby both do theatre tech. (Set design and Stage managing, respectively.)
Margo and I have attended Safe Zone Programs and Feminist parties together.
I cook, Toby is eager to learn, and Margo and Ilana are eager to eat our cooking.
Damn, we are cool.
More on our misadventures soon to come.